Holy jumping Jesusfish! It's been over four months since I let you promote your crappy blog on my crappy blog!
And it's time, like that ridiculous phoenix everyone talks about metaphorically (but nobody actually knows the story) and rise from the ashes.
Today, and for the next twenty-four hours, you get to pimp out your blog in the comment section of my blog. Get some new followers! Increase your internet exposure. Make friends with other bloggers!
Wait… not so fast, Turbo.
You gotta earn the free plug.
In the past I've made you write me poetry or reveal something embarrassing about you that nobody else knows. Let's do something equally awesome.
In order to promote your blog, this time you must tell me something embarrassing about your father.
Maybe he farts in front of your friends. Calls your best friend Brent when it's really Brett. Only tips out at 10%. Runs around the house in his underwear, and they're not boxer briefs but tight whites.
My most popular story is the one where I saw my father's donger as an adult. I've already done my work. Now do yours.
This is a great way to kick off Father's Day next month. Or not a great way. I don't know. Don't really care.
So remember, start the comment with… My father is embarrassing because he  ______________.
Then put your blog underneath and tell us what it's all about!
Special thanks to oSex co-host Karen who came up with this concept.  Watch our latest episode!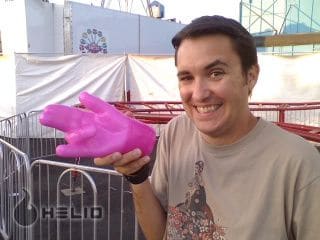 photo credit: WilWheaton via photopin cc