I'm writing this from a date in progress. A ThoughtsFromParis first, as it were.
A woman I'm seeing who requested that I don't use her real name (it's Helen) asked me over for dinner tonight. The first bloggable moment came in the way she brought up this dinner over the phone.
Would you like to come over for dinner?
Sure! Thanks! What are you making?
Well, here's the thing. I have some stuff, but you're a much better chef than me.
Okay…
How about if we made dinner together and you assisted?
—
Now, I do love to cook. And, I'm decent at it. But it's not often when someone invites me over to dinner. It's even less often when I'm invited over for dinner but have to do the cooking. Truth be told, I was thrilled to even be invited. I have no problem putting together the dishes, and I'll even clean up afterwards. I just love entertaining. When I told my friend and co-host of oSex Karen that I was having dinner made for me she said:
It's not a true invite if you have to do the cooking. You're getting gypped!
Now, when I got to the condo, there was much less work for me than was anticipated. All I had to do was take chicken breasts and put them in the oven. All the prep work was done. I was expecting to don the apron, open up a Bon Appetit and start slinging paprika.
The next hilarious moment came when I went to sit down to eat. Since I'm not a total animal I always take a napkin and lay it on my lap before eating. As soon as I went for cloth (which was ON my placemat as seen below), I was told…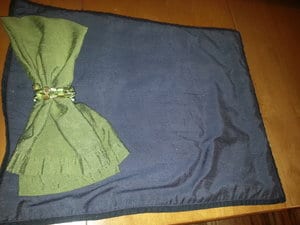 Oh, please don't use that cloth napkin.
But it's on my placemat!
Um, the thing is… it's dry clean only.
I'm not worthy of dry cleaning?
—
As I said this last line she was already up tearing a square off of a Bounty paper towel holder to hand to me. I started laughing that not only was I not getting to use the decorative hand towel, but that I was going from the best case scenario (cloth) to the worst case scenario – the paper towel, half piece.
Even worse she accidentally wiped her hands on the paper towel and started mashing it together as she handed it to me. As I accepted it I asked if she could get me a fresh piece since I didn't need the one that had her hand gook all over it. She laughed and was embarrassed, not realizing she was handing me the soiled square.
Dinner was great and then we relaxed until dessert. She told me excitedly that she had ice cream waiting in the freezer. I was thrilled at the idea of finishing off the evening with some Breyer's vanilla bean.
So, about that ice cream. Let's do it!
But you're on a diet and need to lose ten pounds to win the bet with your father!
That's true. So, I probably shouldn't have ice cream.
No – that's a good decision.
But you offered ice cream! You promised ice cream!
I'm really looking out for you.
I just got gypped again!
—
So in the end, I didn't exactly get a homecooked meal, a real napkin, or dessert. But I do have to say that my host is an amazing person and we laughed about all of this. She made me sit down and write this post from the condo, and has been reading over my shoulder the whole time.
The truth is she's not bossy, inconsiderate, or selfish. I almost never write about dates, but she insisted that I had to. I told her I was just going to write about my bike ride to work, but we agreed that would have been boring.
Next time I'm bringing my own cloth napkins, because I'll be damned if I'm not worth a little dry cleaning.
Oh, I need to go buy some cloth napkins, now that I think about it. I don't own any. I guess I don't even think I'm worth it!
Join D.J.'s Mailing List!
You're worth it. Give yourself the gift of more ThoughtsFromParis!