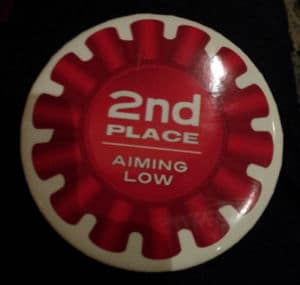 Tonight was the official Come As You Are Party hosted by both AimingLow and TheMouthyHousewives.  I was all set to watch the closing keynote at BlogHer when Leila of Don'tSpeakWhinese told me to get my ass down to the party as they needed help setting up.  I arrived and those bitches put me to work.
I got to meet the people that I respect more than just about anyone online.  All hilarious, brilliant, and fun women that I've been chatting with for months.  It's nice to find your tribe, and I felt instantly accepted and connected.  That's what is known by orthopedic surgeons as a "good thing."  Oh, I should add that I hang with a lot of orthopedic surgeons.  Down with gout!
The surgeon thing didn't read back as funny as it sounded in my head.  T.S., readers!  (people never say, "T.S.!" any more.  Let's bring it back.  Start saying it at work until the whole office adopts it.  Then bring it home and let the kids run wild with it.  Lastly, get it tattooed on your upper thigh.  And then wear micro-minis so that creepy guys can drop pennies under you, reach down to pick them up, and while they're looking up to get a glimpse of your fern, they get the tattooed message.
I'm really loopy tonight.  Forgive me.
During the party both Robin Plemmons and Una LaMarche  would write funny phrases on stickers for people.  Mine said, "I'm pretty sure I'm Kosher."  Sometimes they'd write directly on people.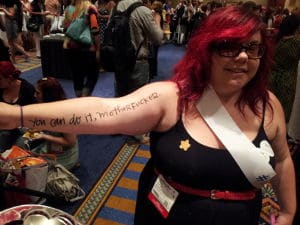 Leila ran an area where there were all sorts of wigs and tutus and silly hats.  Plemmons had made up these great and offensive signs that people would hold up and Schmutzie's husband took photos.  I can't post some of them here as they contain worse words than above.
I, along with Jasmine (need to insert her website as I don't have it handy) handed out coffee traveling mugs and buttons.  We basically insulted nearly everyone who came up to our booth.  She is funnier than me, and I'm pretty damned funny.  I don't remember much of what I said to bloggers, but toward the end a woman told me she had five kids.  I confirmed that she was Catholic and then reminded her, "You know it's okay to switch religions, right?"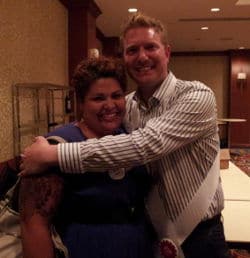 Bottom line – I'm honored to be part of AimingLow and now BlogHer.  I'm excited to party with the AL staff again in October at their Non-Conference in Atlanta.  I couldn't be happier to know these skanks.
Side note – many AimingLow writers were awarded BlogHer's Voices of the Year which is a huge deal.  One of my close AL pals, J.W. Moxie, was nominated and couldn't attend because she's a teacher and school's starting.  She deserves a special shout out for this award and also for redesigning my website logo when I never asked her.  She's just that kind of gal.
Off to bed to dream about my teeth falling out.  I haven't had that one in years, and I'm going to try to conjure it up.  I think you can do that, right?