A girl took me to lunch today.
Actually, I paid, but it was her idea.
In my profession, which is managing Chicago real estate agents, I am constantly recruiting.
Many firms simply do a terrible job of supporting their realtors and leasing agents, and I am always reaching out asking if they would be interested to join our firm.
I try to schedule one to two interviews a day, spending an hour with each recruit.
This morning, halfway through my first meeting, the woman I was with asked, "Hey, I've never been to Manny's Deli.   Want to do the rest of our interview there? "
I'm lucky to be around the corner from the best deli in all of Chicago.   If you've eaten at Katz or Carnegie in New York, you know the value of an amazing Jewish deli.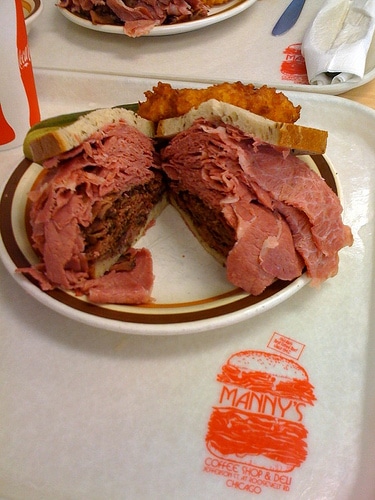 Since it was only 10:45am, I wasn't ready for pastrami or corned beef on rye.   I ordered matzo ball soup and she did the same plus a knish.
And then I forgot to eat the rest of the day.
I really just get so busy, I have a hard time remembering to eat at work.   If I don't schedule it, I often times just don't end up eating anything.
It's not just forgetfulness, however.   There's clearly a disconnection from my body going on.   I am working on this with my therapist.
I have protein bars in my desk, so it's not like I eat nothing during the day, but it's clearly not enough.
Today, aside from the soup I had at Manny's, I only ate two protein bars.
And here's what happens.
By the end of the day, I'm obviously wiped out.   But it's more than that.
I start to get emotional.
You know that one friend who,   every time he gets drunk, turns into a sobering mess of, "I love you!   No, I mean I really love you!"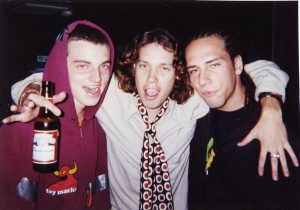 For my group of friends, this would be Brian.   We all make jokes about how many beers it will take until Brian starts crying and telling us we're the greatest guys in the world.
Now, lest you think I am making fun of Brian, I am not.   Personally, I'm touched to hear this sort of thing.   I wish I had the courage to show such vulnerability.
But, since I don't drink, and the Western world doesn't generally associate emotion with masculinity, it's difficult for me to share at this level.
That is, until I stop eating.
By the end of the day today, I was consumed with gratitude for some of my agents.   I even called a few and left voicemails telling them how thankful I was that they worked with us.   I was drunk on low blood sugar.
Now, the real work is to figure out how to get to these feelings without starving myself.   And then to have the courage to say them aloud.