I have this friend, Arnie Becker.
Okay, truth be told I don't really have a friend named Arnie Becker, but for this story I feel I should change the names, as to not embarrass the real people involved.   But, if you really want to know who I'm talking about, just ask me.   I have a feeling I'll tell you.
I decided on using characters from the Steven Bochco and David Kelley series LA Law to portray the players in this story.   Why?   Not sure exactly.   By the way, did you know the guy who played the retarded janitor on LA Law was not really retarded?   He also played the villain (non-retarded) in the movie Darkman.   That was a good movie.   Anyway…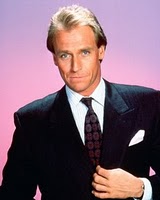 Arnie Becker is a pretty normal guy by most standards. He married his college sweetheart, has an MBA, a child, dog, and a good job.   Up until a few years ago, Arnie and his wife worked at the same company, and even rode together to and from the office.   He goes to church every Sunday, has a four-bedroom house in the suburbs, and drives an SUV.
Arnie doesn't watch porn, do drugs, or yell racial epithets out his car window.   He's by all accounts a super guy with integrity, decency, and kindness.
Except for one thing.   Arnie has HORRIBLE taste.   Now, I don't mean "doesn't match-up belt and shoes"   horrible.   See, a lot of guys have bad taste.   But he has bad taste in very specific ways – primarily in items he chooses to buy.   Let's discuss.
Back in high-school Arnie suggested that he and I apply at   TJ Maxx for jobs.   Now, I've been inside TJ Maxx a few times, and I never saw anyone that looked like us working there.   I would work anywhere that would take me.   But for Arnie Becker, he was applying to get the employee discount.   I guess if you want to load up on Polo shirts with upside-down logos or irregular Dockers, it's a nice score.
We also applied at Ponderosa Steak House, which, now that I think about it, was most likely his way of getting free access to the steak bar.   If you're not familiar with Ponderosa, you're probably familiar with a similar restaurant, Sizzler.   Both are terrible.
We didn't get callbacks from either place.
Also in high school he used to get the International Male catalog sent to his house.   And if you have never seen the inside of this catalog, let me tell you what you're not missing.   Balls.   Lots of men in tight underwear.   This catalog was created for that special kind of man who thinks a male thong is too roomy.
I wanted to show pictures here of the underwear section of the catalog, but I would lose half of you who were too busy retching on your shoes to continue reading.   I simply went to the website, and picked the very first photos I saw on the first page.   This is kind of stuff they sell.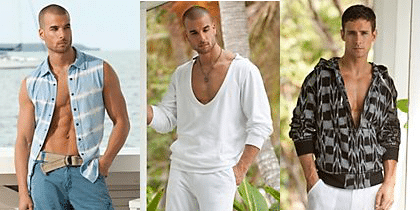 This is the catalog that even the cast of The Jersey Shore thinks is lame.
But Arnie Becker loves it.   See, here's the point I'm trying to make.   Obviously, this kind of look is only seen on douchebags.   And if he were just a regular hoop-earring, barb-wire tat, frosted-tips douchebag, I wouldn't be telling this story.   But he's not a douchebag.
He would never actually buy clothes from International Male – but he did buy a watch from them once.   Which is even stranger, because you have to flip past all the manballs in the catalog to get to the watches.   And the watch he got was all metal and pointy and weird.
Speaking of watches, once he bought a wristwatch that also doubled as a remote control. In college he would go to bars and then change the channel from his bar stool during televised sporting events. That's a pretty funny gag, actually.
And just a few years ago he decided to buy leather pants.   You have to be really careful when it comes to stuff like that. If you're a man, and going to buy leather pants, you should be going for the Jim Morrison look. You know, long hair, sunglasses, an open shirt, and lots of LSD.   Arnie Becker bought his leather pants at the Gap.   And they were baggy.
He also bought that wallet that traps your money in a crisscross elastic strap magic-trick thing.   Remember that?   He also recently ordered that facial hair groomer device they sell on television.   He loves crap like that.   Okay, you get who Arnie Becker is, and what occurs to him is a good idea to purchase.
I have this other friend Victor Sifuentes.
This happened about three years ago, around Victor Sifuentes' birthday.   All of us are good friends, and I was talking to Arnie Becker on the phone, asking him what he was going to get Victor.   Arnie said, "Actually Target was having a clearance sale, and I already bought him two gifts!"   He had purchased a turkey deep-fryer as well as a dartboard. I was really impressed. These are actually two USABLE gifts.   Very un-Arnie.
"Yeah, but I'm not giving these gifts to him. He screwed me over!"
"Explain."
"Well, last year I bought Victor Sifuentes this really awesome head from Pier 1."
"What do you mean, head?"
"You know, a big glass head, life-size! It is something you'd put on a shelf. It was the coolest!"
I'm trying to picture a human head made of glass sitting on a bookshelf.   My first thought was, "That is not the coolest." I mean, maybe in Dr. Mengele's house that would work.   But nobody else's.
"Who was the head of?   Someone famous?"
"Nah, it's just a big fuckin' head!   It's awesome!"
Right.   So, anyway, apparently Victor Sifuentes returned the glass head.   I'm sure his wife had something to do with it. He exchanged it for some kitchen glassware.   But he had decided not tell Arnie that the gift had been returned.   Well, Arnie Becker was on the phone with Victor and said, "Hey, I'll drop off your birthday gifts this weekend.   Put the head out on the mantle!"
Victor finally explained to Arnie that the head had been returned last year and exchanged for six blue tallboys.
Arnie was hurt.   He told Victor, "Well, you better go back to Pier 1 and get that head, or you're not getting your birthday presents!"
I'd like to interrupt for just a second here and show you a picture of a gift Arnie Becker gave me when I moved into my condo.   It's also from Pier 1.   What's unusual is that it's a vase that one can never use.   Because there's a big hole right in the middle.   Probably the only vase ever made where the designer thought, "You know how people like to put flowers and stuff in vases?   Well, tough titties to that!   My vase will have a hole where others do not!   I'm an artist!"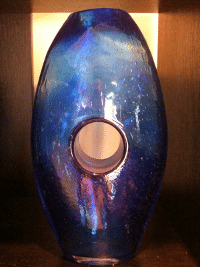 Fast-forward to Victor Sifuentes' birthday party.   Arnie Becker couldn't make it, and I'm telling the glass head story to a few people. We had all decided that even though a glass bust is not the best gift, it's still poor form to return a present from a friend.   Emily Post is very clear on shit like that.   I mean, the non-functional gift vase is still sitting in my living room.
Victor Sifuentes overhears me telling the glass head story, and is like, "Whoa, hang on. You're missing a huge part here."
"The head had two major problems, and I had to return it. First of all, there's no opening on the top. You can't fill it with anything. It's perfectly solid, which makes it even the more creepy."
"But the more important reason I had to return it…"
"Was that it is clearly the head of a black guy."
—- You should now pause for a moment to take in the full heft of that last sentence.   —
"We can't have the bust of a black guy on our mantle!   I mean, it looks like a game trophy!   People will think we're racist! What if a black person visits our house and we forget to put away the head?"
So obviously, I don't think I have to tell you that a lone black head sitting above a fireplace at a white person's house may be a tinge off-color (pardon the pun).   When Victor has company over, there's no easy way to explain this.   If he says, "It was given to me as a gift!" then the person is going to wonder why someone would choose that for him.   If he says, "I bought it myself!" then Victor's basically saying that he has an affinity for severed black heads.   Also, not good.
That's basically the end of the story, and truth be told, I had never actually seen the head.   Arnie Becker claims he just thought it was cool, and didn't think of it as a black man's head.   Just a head.   And I believe him.   He makes bad buying decisions.   But I know Arnie Becker, and Arnie Becker is no racist.
Thanks to the internet, I was able to track down the big racist glass head.   And even though I think this story is great because you didn't know what the head looks like and you created a picture of it in your mind, you really deserve to see it for real.   Is it a black man's bust?   I don't think it is.   Just looks like a normal guy's head to me.   Click the box below.
Hopefully next time I can do a story about Harry Hamlin.   I have a few ideas…