I went on a photowalk with the great Neil Kramer today.
Here at the AimingLow NonCon we headed over to a butterfly sanctuary in Callaway Gardens. There were about twenty of us.
Inside the conservatory was lush vegetation. Trees, flowers, and plants lined the glass walls. Sunlight focused in and the air was humid. The purpose of this trip was to learn how to better take photos using only your phone. After some instruction from Neil we went off on our own.
I'm not a big photography person. I don't own an SLR and my 8mp phone cam meets my basic needs. I only take photos of  friends and family. The only true camera technique I know is to hold it above the subjects' head and point down to avoid recording a double chin. If you're not doing this you're screwing over even your skinny friends.
The first few minutes of the tour, I walked around locating butterflies. The idea is capture butterflies with their wings spread. This is not simple nor easy. I'd follow a butterfly for many seconds until it rested on a flower. Butterflies start slowing down their wing flapping to achieve balance and then close the wings. You have a few seconds to try to catch them before they close up shop and you just see the outside of their wings.
A few of the wins…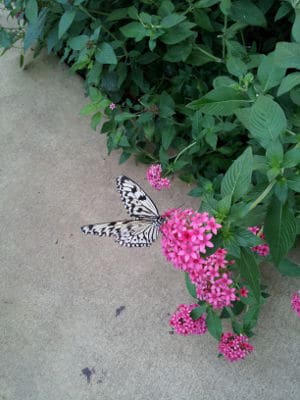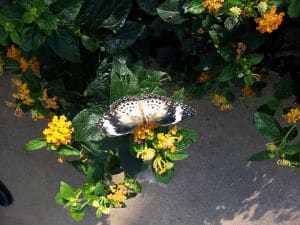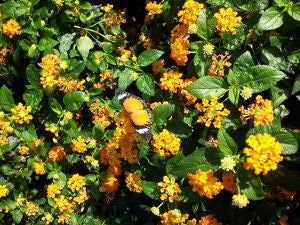 Okay. Butterflies. You get it.
You know what you really want, however, when you go to a butterfly sanctuary? The ONLY thing you really want?
YOU WANT THE BUTTERFLIES TO LAND ON YOU.
I noticed several different techniques that people employed to get this to happen. Some chased the butterflies hoping to attract them with movement. Others snuck up on a butterfly hoping to get so close that they would jump onto their blouse from a flower. The most common action was to stand perfectly still and hope that a butterfly decides your rigidity equals the place to be.
Watching grownups (and myself) devolve into children hoping that we're "special" enough to have a butterfly land on us was entertaining. I would have actually been jealous of someone had a butterfly landed on them. Nobody had that luck, however.
I walked away mildly dejected. My suspicion is that we all did. Nobody would say such a thing as it's too embarrassing. But we all wanted to have a one butterfly on our shoulder and another at the end of our index finger.
It's true. We can admit it.
I want control over animals (and butterflies). Each time I call my cat over I have a 50/50 chance she's going to follow instruction. Half the time I'm sad/angry when the cat ignores me and heads into another room. But when she jumps up on my chest… OMIGOD I TOTALLY MADE THAT HAPPEN!
The desire for control over animal behavior, for me, is about validating my goodness. I see dogs, cats, butterflies as pure and therefore only influenced by goodness. Therefore, when my cat decides to go look out the window instead of sitting on my chest, she's rejecting me. When the butterfly flies past me and lands on a flower a few feet away… Well, if I had been a little more awesome it wouldn't have been able NOT to land on me!
I just want everything to validate me. That shouldn't be so hard, right?
| | |
| --- | --- |
| Share My Awesomeness! | Weekly Best-Of D.J.! |