A few days back I wrote about a new feature I'm going to try here on the site. Instead of just reading about me and all my silly thoughts, we're going to workshop this mofo. Together.
In short, we are all all simply not good enough as we are. Trust me. You're not.
(Don't worry – I'm not either)
Now that you're effectively shamed, let's get better.
Announcing…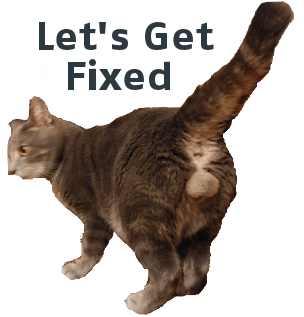 The first thing that needs to get fixed is that logo. I have absolutely zero Photoshop skills (evident). If any graphic designers want to take a crack at something better, I'll be forever loving you.
Here's how Let's Get Fixed works.
You choose something you would like to start doing, but you're not currently because you suck.
In the comment section declare that you will accomplish this in one week.
In seven days I'll write a follow up post an you can check in. If you've made it you'll receive a virtual make-out session from the rest of us.
If you fail, well, you're just human and everyone makes mistakes. Just kidding – we'll goof on you. Hard.
I've written extensively about how I can be sort of a dickhead to my girlfriend. For example I should probably send a nice note in the mail one in awhile. Or order some flowers. Maybe overnight a tub of that Russell Stover crap.  I need to step it up.
I declare that I will do three nice things for my girlfriend this week. Above and beyond the usual phone calls and text messages. Will I send a carrier pidgeon with a parchment of haikus about the curls of her hair? Maybe I'll swing by Kohl's and get her some mom jeans even though she's not a mom. Or perhaps I'll just send her an ecard of Sarah Michelle Gellar.
If you peeps dig this, I might come up with a forum or something where we can touch base daily. For the time being just write it in the comments below and we'll check back in seven days.
I don't care if your goal is to finally confront your son about his ugly girlfriend. Let it be heard below!
What say you? Say it now! (Actually, writing it would be more effective. Do that instead.)
photo credit: animalvegetable via photo pin cc
| | |
| --- | --- |
| Share My Awesomeness! | Weekly Best-Of D.J.! |