Okay, this may sound strange but – I don't read blogs.
I never did, actually.
I could not name one blogger when I started.  It never occurred to me to see what else was out there.  As my own website started picking up steam last fall I attended BlogWorld LA.  There I met many bloggers and had a fantastic time.
I still didn't read any blogs.
The only exception was TheBloggess who I would  occasionally  skim.  She's great, and I was an advertiser of hers.  I had also written Dooce back when I started, and she was nice enough to write back.  But that's about it.
Last weekend I was in BlogHer.  Aside from having the President, Martha Stewart, and Katie Couric speak, I met close to a hundred bloggers.  At BlogHer a big emphasis is placed on "networking" but I really dislike that term.  Networking to me is about connecting with people to try to get something for yourself.  I didn't find that was the attitude of any participants.  Instead it was about developing personal relationships with strangers by sharing your passion.  Just like BlogWorld, I came away with several people that I believe will become good long-term friends.
AimingLow.  Some of the funniest writers on the planet (although I'm only familiar with people who speak English, but let's be honest, when was that last time a Laotian made you laugh?).  It was at the AimingLow party that I realized I was missing out.  These women (and only other man) are truly hilarious.
I now have over twenty blogs in Google Reader, and I'm really enjoying reading other people's crap.  Maybe it's because I now know these writers.
My friend, Linda, totally shamed me when she met me.
You NEVER read my blog.  I know it!  I read you every day!
She was right, and I felt like a pile of balls.  Mission accomplished, Linda!  I will forever read everything she writes.  Gwen from The Hartley Hooligans  has called me out, too.
Who else is awesome that I should be reading?  If you say yourself then we'll know you're either a wild narcissist or completely confident in your awesomeness abilities.  I'm both so I tell everyone to read me.
By the way – tip for all you bloggers. One of the best ways to get your stuff read is to comment on other people's blogs.  Except if you just write jokes about  ethnicities.  I implore you to reconsider that strategy.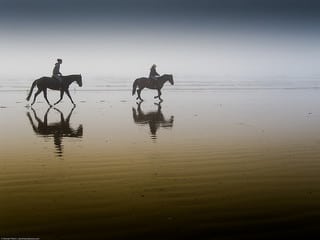 photo credit: mikebaird via photo pin cc
Join D.J.'s Mailing List!
You're worth it. Give yourself the gift of more ThoughtsFromParis!