Do you pick up spare change lying on the ground?
I don't.
I realized this fact on Christmas Eve during our family's annual holiday party. Carolyn and Laura are two sisters who grew up in our neighborhood. They're both very successful. One's a realtor and the other an attorney. The attorney (Carolyn) stated she always picks up change she stumbles across in the real world. Laura does not.
That led to a quick poll of the room.
About half of those in attendance said they picked up coins. When asked why they together barked, "Why not?" The picker-uppers didn't have more explanation than that. Laura said, "Carolyn, you're an attorney for God's sake! You don't need to pick up a penny." Carolyn replied, "Yes, but now I'm one penny richer!"
What was interesting is that both camps did not understand the behavior of the others. We both thought each other was nuts.
To me, the idea of grabbing a penny off the ground doesn't even register as something to do. I don't use pennies in my life. I don't use any change. The only time I used a coin in the past year was for a parking meter in a Chicago suburb. Oh, and also when my cat peed on my comforter and I had to go to the laundromat.
I pay for things in cash less than one percent of the time. Here in Vegas at a conference I do carry cash – for tipping. But other than that, it's all credit cards. I want the airline miles!
I, with pride in my heart, whipped out my Mastercard two days ago at Walgreens for a $.37 purchase.
Now, I find coins on the ground three times a week minimum. Living in a big city, they're everywhere. And I never bend down and grab them. Even if it's a quarter, the holy grail of free change, I pass on by.
I started asking myself the tougher question. Like Descartes pondering existence, I wondered at what amount I would reach down and grab free cash. What is my threshold?
Pretty sure that Descartes joke is going to fall flat. I'm leaving it in.
The minimum amount is one dollar. If I ever come across a paper note, it's going in my pocket. This has never happened.
So, now the question is begged – do I think I'm too good to pick up ground-change?
I'd like to say no, that it's the dirtiness of the coins or that I'd hope someone else less fortunate finds it and puts it to use. But that shit ain't true. I have no problem with dirt and grime, and I could always donate my change at the end of the year if I felt guilty about grabbing it.
No, the truth is this – I'm too good to pick up change.
I wish I weren't typing that but it's a sad reality. I feel powerful when I walk by a penny and refuse to stop. Like I'm a big shot who doesn't have the time. And doesn't need it.
Now, there's no reality here – I'm not so wealthy that I don't have the time. True, finding change isn't going to speed up my retirement, but I'm not above visiting the CoinStar once a year to receive a small sum.
So, here's my new proclamation – from now on I will now pick up EVERY coin I see lying in the street. I will donate all cash at the end of the year to something so I'll feel like an ever bigger shot.
See what I did there? Clever, no?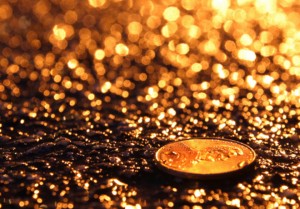 Join D.J.'s Mailing List!
You're worth it. Give yourself the gift of more ThoughtsFromParis!