Six weeks ago I put up a post where, as a thank-you to your readership and support, I asked you to promote your blog here.
It ended up becoming the biggest day in this blog's history. Within 48 hours over two thousand people visited. Many of you saw traffic spikes and gained new visitors. Awesome!
As a goof I told you to write me a poem as the cost of admission. I think nearly a hundred of you did. And I am very sad to say that those poems have been lost. I wish I wasn't saying it, because you did spend time on these – some were funny, some were sad, others joyful, and many about what dicks your kids are.
Here's what happened. A few days before BlogHer, the site went down  late at night. No problem, that's why I have a backup server that does it's thing nightly. Since I have never had to use it before, it took me a few hours to figure out how to restore the backup. Here's where I screwed up.
I restored an old copy of the site that was a month old. I didn't realize this initially, and as I was adjusting things, the backup server started it's daily backup. And it backed up my site as it was (which was the old backup). Which overwrote the actual backup I needed.
Confused? Whatever – just realized I f'd up. Bad.
I lost about a thousand comments including all the poems. While we'll all move on with our lives, I really am very sad about this mess. The poems were really fantastic and even though it started as a joke, it turned into something very special for me.
I feel like I owe you one.  Let's try this again.
In the comments below – promote your blog. Give us your link and a description.
Oh, and you MUST tell us something embarrassing about yourself.  That's it.
Pimp away!
(as you did before, pass this to all your friends – let's make it a party!)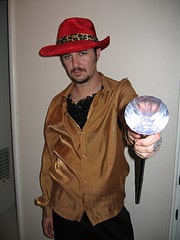 photo credit: WilWheaton via photo pin cc