I had a great joke for my ex-wife yesterday.
No, I didn't mistype.  "For" – not "about."
I've been open about my journey through divorce.  I  have even been on tv and spoke about it.  My relationship now with my ex-wife mostly consists of questions I have about the pets (she's a veterinarian) and something funny I know she'll laugh at.
We probably only chat live maybe once a month, and never about anything other than those two topics. (four "t" words in a row! And yet, it's not a hey-I-just-used-for-t-words-in-a-row thing. You hadn't even noticed.)
I called up yesterday expecting to get her voicemail so I could just leave the joke.  It was a one-liner about our cat.  Not funny enough to reproduce here, but she would have dug it.
I think it's important to note that I didn't write the joke for my ex-wife.  My brain is wired to always look for humor.  The joke about my cat wrote itself.  Then I realized that my wife would laugh if she heard it.  Nobody else would.
Anyway, when I called, for the first time ever, she was sort of cold and distant.  You could tell she had probably picked up the call by accident.  I got the impression she was in a group of people in a public place.  Halfway through the joke (which was all of seven seconds) I felt a "don't call me with this bullshit" vibe.  Now, she loves a good joke and has never responded that before.  But I could feel it.
And after I told the joke she politiely laughed, said it was funny and then, "I have to go.  I'm sitting down to dinner."  I apologized for bugging her and hung up.
She could have been out with friends, or a boyfriend, or her parents.  No idea.  But it was obvious she was somewhere where she didn't want to explain why she was laughing hysterically on the phone with her ex-husband.  I understand this.
I was devastated.  I didn't realize that her approval still meant so much to me.  I don't long for her.  I don't have fantasies where we're together again.  But I was saddened that she brushed me off.
And then, right then, I realized that even though a good joke is a good joke, I had been using my ex-wife to validate me since the divorce.  If I said something funny to her, she would laugh.  I would feel good.  This dynamic is not totally crazy as she validated me a lot when we were together.  I have struggled to validate and self-soothe my whole life.  I mean, I write a blog.  A good chunk of that is about external validation.
The message I had been transmitting to my ex-wife from me was, "Don't leave me again!  I'm good!  Can't you see?"  Now, please understand, I have a girlfriend show loves and supports me very much.  More than any other relationship I've ever had.  I could not be more grateful or happy to be with her.
Obviously I won't be calling my wife the rest of my life whenever a one-liner about my cat comes up.  And I hope I can get to a point where if I reach out to her it's not to get something I need for myself.
So, to help me, I'll make a deal with you.  I'll just tell the jokes about my cat.  And you can pretend to laugh.  Deal?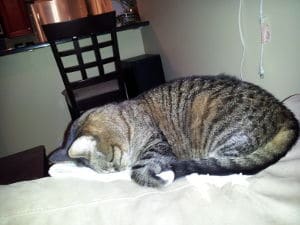 Join D.J.'s Mailing List!
You're worth it. Give yourself the gift of more ThoughtsFromParis!