I'm proud to work with another fine sponsor to give away some more crap!
Win a  Kate Quinn Organics  Cozy Kimono Bodysuit and Pants Courtesy of MaxMay!
The clothes range in sizes from 0-18 months and come in blue or pink. Makes a great holiday gift for that one friend you never sent a wedding present to and feel guilty about.
My pals over at MaxMay  have generously offered to send a ThoughtsFromParis reader one of these trendy organic baby things! If you're not familiar with MaxMay, check them out. High quality organic clothing. Seriously – it's great. Plus, they're a sponsor and giving you free stuff. You owe them!
To enter, all you have to do is click on the box on my Facebook page. Check out this nifty illustration.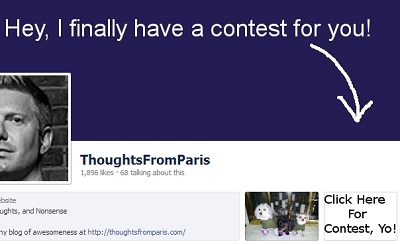 Then I ask you to like the page and provide your name and email. That's it!
Contest is live now through next Monday at midnight. We'll use one of those random email pickers to choose a winner.
That's it – just another round of thanks for the nice people at MaxMay. Also, I'm grateful you're a reader and any chance I have to give away some stuff to you, I will.
Plus, since I use the rhythm method with all my one-night stands, I certain don't need the clothes.