I had forgotten that this happened.
Timestamp – September 6th, 2006.
Back when I had just started dating my future ex-wife I used to take a lot of baths. She had a condo and lived a few blocks from me. To help with the mortgage I acquired a roommate. This made sense as I spent nearly all of my time over at Christina's place. Within months I had made myself at home (her home).
I would leave work at 5pm, take the subway home to my place, change quickly as to avoid my roommate (who swore he was the inspiration for Turtle on Entourage – I'm not kidding. He really believed this), and walked over to my girlfriend's condo. It's not that I disliked the roommate, I just had no need to talk with him. He was enjoying a large condo with all the amenities provided by me for little rent. Plus, I was never there. He had it good. I can't remember his name, and I'm proud of this. He's an architect, I think.
Anyway, I would unwind with a soak in her generously sized bathtub. See, I don't drink or use drugs so I couldn't just pour myself a highball of whiskey and melt away the stress. I used hot water, instead. It's not much different, actually. I mean, one's better for your liver and all, but it's still an escape. I like escape.
So, one night I was doing what I normally did (take a bath and eat ice cream and read a book simultaneously), and Christina came in to use the bathroom. Now, I have a strict you-better-not-go-to-the-bathroom-in-front-of-me policy, but I'm at her place. With one bathroom. Her rules were different than mine. I don't think she was cool with squatting over the garbage disposal.
I protested and asked her to hold it. She told me to fuck off. As she sat down mere inches from me she looked my way. What she saw made her laugh. Hard.
She finished her business and ran to the living room. She was back a moment later with our camera. Christina asked me to smile.
I had enough good sense and intelligence to cover up my wang with my arm before the shutter dropped. She took a few more snaps and then left the bathroom. I went back to reading my book.
Christina forwarded the photos to me and later that evening in bed we had a good laugh. I, without putting any deliberation into it, sent them over to a bunch of family and friends. I thought this was hilarious.
What I should have done was examine the photos more closely. I had forgotten a part of my body that was deserved of being covered went uncovered. My balls.
Yep, there they were, captured via digital pixels. Also unsubmerged.
The only reason I know this even happened is that my friend Suzanne sent me a message alerting me to this unintentional gaffe.
Even the more funny, I now had unwittingly sent my nards to probably a dozen people. My girlfriend found no humor in this whatsoever. She was plenty pissed.
That was the last nude photo taken of me. I don't think I'll be participating in this kind of photography again, even as a joke. Yes, I did a video blog from the tub last year. I also won't be doing that, either. I just watched it again – man did that come out creepy!
Suzanne was nice enough to remind me of this whole incident the other day and kept the photos for seven years. Here you go.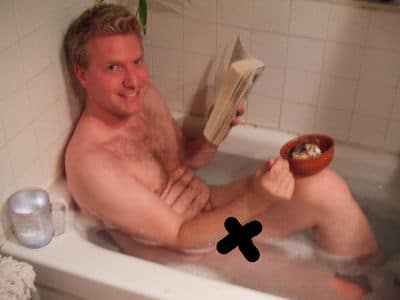 Join D.J.'s Mailing List!
You're worth it. Give yourself the gift of more ThoughtsFromParis!