Saturday and Sunday is the broadcast of my segment on the Weekends With Whitney television program, here on the Chicago NBC affiliate.
The bad news – I'm at my fattest of all time.
The good news – I talk about all about my pain and suffering through divorce.
Wait, is that good news?
But I had a lot of fun shooting it, and tried to speak honestly about learning to process anger and sadness.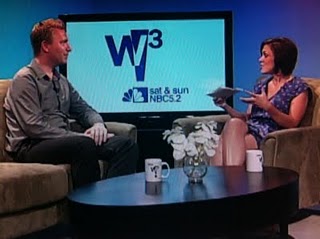 My episode will be broadcast on Saturday and Sunday at 12pm on NBC Chicago Nonstop!
If you're not in the Chicagoland area you'll be able to soon download the   video podcast on iTunes.
I'll be publishing the content here next week, so you can watch it and judge just how handsome I really am.   (around a 7.5, btw)
Thank you to my dear friend Whitney Allen for allowing me to come on her show and let talk about me, which is clearly the greatest subject there is.
—– Official Release Notes —–
"There's only one way to have a happy marriage and as soon as I learn what it is I'll get married." – Clint Eastwood
This Saturday and Sunday on NBC Chicago Nonstop at 12pm WEEKENDSwithWHITNEY is discussing something EVERYONE thinks about…LOVE, MARRIAGE and DIVORCE!
You will hear perspectives from people who have experience in one or all of the topics! Don't miss their great insight into the crazy world of love!
W3! also has clinical therapist and expert on the subject, Monica Garica, in the studio to discuss healthy relationships. She will teach us all good ways to fight, the difference between love and infatuation, etc.!
This is an episode that hits home with all types of viewers – don't miss it!
Join D.J.'s Mailing List!
You're worth it. Give yourself the gift of more ThoughtsFromParis!