The first time I met my wife was on a blind date.   We were set up by a coworker of hers who told me I needed meet her friend.   Since I didn't know her coworker all that well, I couldn't really ask the most important question my immature mind was thinking…
"Can you send a photo over to me beforehand?"
Instead, I made some comment about how I'm sure she's pretty, and she said, "Yes, she's very beautiful. Don't worry."
We spoke a few times on the phone, and then decided it would be more fun to make dinner together at my apartment for the first date.   She agreed to bring the salad and dessert, and I would make the appetizer and main course.
By the way, I've told this story a number of times over the years, and for women, they almost always say…
"I would never go to a guy's house on a first date!"
I disagree. I've done this over a dozen times. I found that making dinner together engages a woman more into the date, and also relieves some of the pressure and awkwardness. You're just two people having fun making dinner.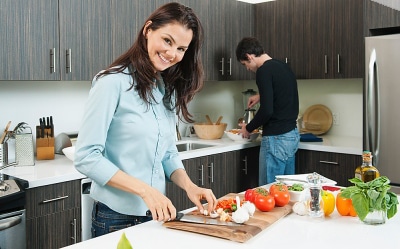 Plus, the bedroom is only twenty feet away, should the date take an amorous turn.
I know it seems like it's a crazy thing for a woman, to go to man's house on the first date, safety and everything, but I never had any problem having women agree to it.
Probably because I'm not a creep.   If you're a creep, then this will not work for you.
I told this recently to a co-worker who said she wouldn't go to a guy's place on a first date because she would think he must be cheap.   But I'm not cheap, so I don't care about that either.
When I start dating again, I'm going back to making dinner with women.   It's really a lot of fun.
I went to pick up my blind date and since I hadn't ever seen her, I was just hoping she would be attractive. I know that sounds shallow, but I'm trying to be honest here.   I need to date a woman I'm attracted to.
And when she came out from her condo, I was blown away.   She was a perfect ten knockout (this meant that I didn't peel away before she made it to the car – kidding).
And that was that. It was a perfect first date, and three years later, we married.   Two years after that, the marriage ended, but that's another story.
Love at first sight has happened to me a number of times in my life, but more often than not, when I see someone who has just that perfect look, it's usually in the street and they're walking the other direction.
Also, it's not really love, of course.   It's just the lining up of visuals.   It's not love when you can only see their physique and face.   But it does really feel like love to me.
Since then I've matured and now when I approach women, it's actually best for me to start a friendship.   Turns out that's probably the healthiest way, because in the end friendships are way more important.   And if love develops, great.
When I was 23, I used to take this bus every day to work.   One day, at the bus-stop, I saw a woman who took my breath away.   She was blonde with curls, and wearing a bright red pea coat.   This was one of those love at first-sight things.
The next morning she was there as well.   I told myself that if I ever saw her again, I would HAVE to ask her out.
Then, she didn't show up for like four months.   I seriously thought about her every day as I rounded the corner to the bus-stop.   I was really devastated and thought I had missed my opportunity.
The next time I saw her, I was ready.   We got on the bus and just happened to wind up standing next to each other.   I turned around and made a stupid joke about something.   She laughed, and five minutes later gave me her number.
I can't tell you what a big deal this was to me.   It's not like I asked women out every day on the bus.   And this was my dream girl.   Still wearing the red pea coat, too.
Turns out she lived in a building directly facing mine, basically next door.
We chatted once or twice on the phone, and then I announced I was coming over.   I pulled a bottle of wine and headed over.   I didn't drink wine, but I knew enough not to bring a pint of whiskey.
She wasn't super cool with me announcing that I was coming over, but who cared – this was my dream woman!
I show up at her apartment that evening, and she gives me the tour.   Standard early twenties' first apartment and typically feminine decor.     But what interested me most was that her window directly faced my window.   Which I didn't know until then.
She was on the fifth floor, I was on the fourth.
Ever been in that situation?   Where you're at a house that looks at your place?   The first thing you do is see if you can see your stuff!
And sure enough, she was directly across the way from me.   Right across.
And I'm such a romantic moron, I actually thought this was a sign that God wanted me to be in a relationship with this woman.   Like God doesn't have anything better to do like deal with like AIDS or famine.   I'm a moron.
I pointed out to her that I lived right across the way.   Again, I thought this was a good thing.
She looked at me and in a startled voice said, "That's YOU?"
Now, this is a obviously a bad sign, because, "YOU" meant something.   And probably something bad.
And then I realized that, even though I had both blinds and curtains, I had never once closed them, for any reason.   Ever.
She could look directly into my apartment.   And see everything.
And here's the thing.   I didn't think anyone would actually "watch" their neighbors, so I didn't care.   If I was coming out of the shower, I would walk across the bedroom naked.   Didn't close the blinds.
I panned to the left and realized she could even see directly into my shower.   Which I had never closed the blinds to either.
But then the low self-esteem part of me again thought, "But, nobody looks at you.   People don't really DO that."
She said, "I've seen you naked! Like a bunch of times!"
I'm not particularly bashful or freaked out by someone seeing me naked.   I even showed my genitals to my wife's waxer once, and didn't think twice about it.   No big deal.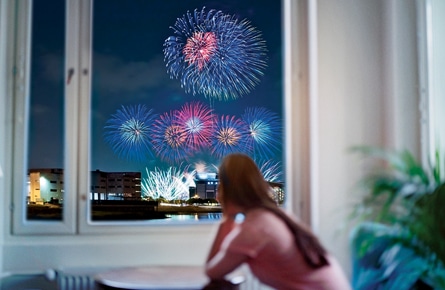 But this party had just become tense.   It was time to loosen things up.   How should I take care of…   I know – I'm funny!   Surely, she'll see I'm not just some loser who walks around naked.   I have charisma!
We started drinking the wine, but things didn't improve.   She was clearly uncomfortable.   I'm sure to her that I was now etched into her mind as the weirdo that walked around naked.   Or who doesn't shut the blinds because he wants people to see.   Or something.
I just thought the whole thing was really funny.
So, we're on her couch, and I go to kiss her.   Which meant I was not reading the signals, because her body language was screaming, "Get out!"
But I had to go for it.   She was that important to me!   Naturally, she pulled away.   My dream red pea coat girl did not want to kiss me.   I was devastated (well, sort of).
Realizing that this was not going to improve, I decided it was time for me to leave.
Here was the weird part – I was flying to Dallas the next day for work, and she had already told me that she would come over and feed my fish.
The next day, hours before I flew out, I received an email saying she couldn't feed my fish.   I guess she was that freaked out.
Let's recap.
The guy across the way, who she had seen naked more than once, comes over to her apartment, tries to get her drunk and kiss her, and now needs her to come over and feed his fish.
I tried calling her a few times over the next month, but she never returned my calls.
Maybe she didn't like what she saw?