I love/hate Twitter.   What's great is that by putting out information, you can connect to anybody who has interest in your interests.
However, in my experience, this rarely ever happens.
I post to my Twitter account daily.   Mostly just jokes; one-liners that I think of when going about my day.   However, I get virtually no responses from my tweets.   I have about 150 people that "follow me" which should indicate that every once in awhile I would engage in a real conversation.   But it never happens.
I'm sure it could happen, if I spent more time learning how to network on Twitter.   But the truth is, I really don't care.   I'm not looking for new friends.   I have a difficult enough time keeping in touch with the ones I have.   That's where Facebook comes in.   I actually enjoy finding out what my high school and college friends are doing, even the mundane stuff like whose kids are sick, and who missed their morning cup of coffee.
So, why do I use Twitter?   One reason and one reason only.   Access to celebrities.
I'm fascinated with celebrity.   And now, amazingly, you can follow and even communicate with your favorites.
They don't always communicate back.   In fact, I seldom get a response when I tweet a celebrity.   But sometimes they do.
So, I'd like to welcome you to a new feature I'm calling…
Steve Agee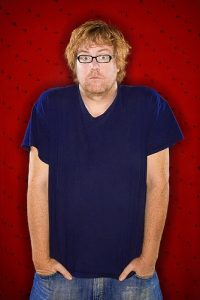 While you might not recognize Steve from his name, you should from his picture.   He plays one of the homosexual neighbors (with Brian Posehn) on "The Sarah Silverman Program." He's really funny, and a good stand-up comic.   I've listened to several interviews with him and he seems like a nice guy.
At the time of this post, he's the 103rd most followed person on Twitter (Jeremy Piven is #104).   He has over 1.1mm followers.   That's a lot.
I can't imagine how many people send him messages every day.   Has to be at least a hundred or more.   It must just be a constant barrage "You rule!" or "You suck!" tweets coming at him all day long.
So, imagine my surprise when I goofed on him for making a bad joke, and he responded.
Steve's Original Tweet

Now, let's pause for a minute to explain this tweet.   He's in a car, listening to a classic rock station, and Tom Petty's "Refugee" comes on the radio.   The main hook in the song is "You don't ha-have to live like a refugee."   It's sung about 649 times in under three minutes.   Anyone who has heard this song has found themselves singing this line for days after.
So, ha ha, right?   No.   This is not a good joke.   It's pretty much just taking that line and changing one word.   Hell, even I have thought of this joke, and that was back in high school.   And, it wasn't funny back then.   So, I decided to call him out on it.
My Response

So, I'm basically saying that this joke maybe worked back in 1981 more close to the time that song was released.   Had I done a little research I would have discovered that "Refugee" came out in late 1979.   But, I was in the neighborhood.
Now, like I said, I'm sure every time Steve writes anything he gets a lot of replies from assholes like me.   The truth was, this was the very first tweet I ever sent him.   So, you can imagine my surprise when he addressed me directly.
Steve's Response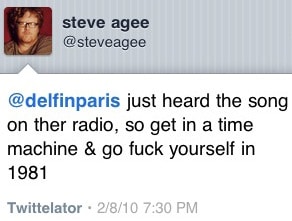 Okay, that's funny.   I'm not sure if he's actually upset, or just playing it up for the sake of the aggressive comeback.   Either way, it made me laugh.
Here's a tweet I pre-wrote for Steve to use, should he choose to continue with song references:
"It's MY prerogative to turn to a different station, Bobby Brown!"
Now, that's comedy gold, Steve.   My treat to you.   No charge.