Was 98 degrees in Chicago and we tooled around doing stuff outside.  My mom, dad, girlfriend, sister and boyfriend are all here.
One of the weird body things I have that I can't seem to change is this sweating thing.
Here's the deal.  I don't sweat under my armpits.  Not sure why.  I mean, maybe it's just that I use deodarant, but I'm pretty sure most dudes do.  Some guys, though, halfway through the workday their nastiness has bled through the undershirt and into the Brooks Brothers.  It's awful to look at, and those poor shirts just get ripped up.  Those guys might as well just buy yellow shirts to match the future armpit stains.
So, while those people disgust me and I believe they should be sterilized and also sent to the island of Crete, I have a similar issue.
I sweat at a few places on my chest and back.  This happens when it's hot and/or humid.
Now, if you think this be normal, I assure you it isn't.  Yes, we all sweat when we get hot.  I sweat quicker than you, and continue to long after you cool off.  I have no idea why.
I bike 20 miles a day.  I'm pretty good about what I eat.  I don't drink alcohol or have a pill problem.  I'm probably healthier than most of Americans.  So, what's the deal?  Maybe I just run hot.
At work if the temperature is about 73 degrees, I start sweating on my face a bit.  Again, not pits or anything, but the back of my neck.
I've always been this way.  So now I make provisions.  I knew I was going to be sweating like a bastard at prep school during dad's weekend (I just came up with that – but it sort of sucks), so I brought a little tiny towel.  I bought ten of these on Ebay – they're basically really thin washcloths.
This photo was after 60 minutes – no exaggeration – of being in ultra-cold air conditioning at the Art Institute.  I scanned each person to see a similar sweat pattern.  Not one person has even one noticeable droplet.  If we ever do a reader meet-and-greet and it's outside, you can bring me a sweat towel that you made from needlepoint.  I'll give you big sloppy kisses and make you rub the wet spot on my Banana Republic t-shirt.  Enjoy, and I hope you're not eating right now.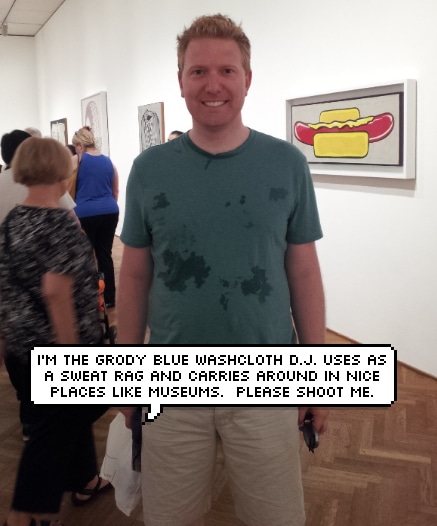 | | |
| --- | --- |
| Share My Awesomeness! | Weekly Best-Of D.J.! |