Last Sunday a bunch of us committed to changing something in our lives that needed to shift.
Time to check in AND set a new goal.
So…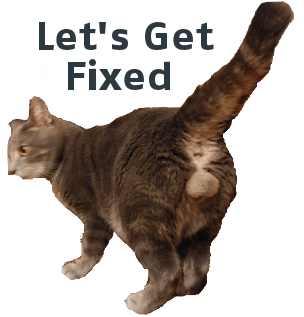 Okay, I can't not laugh with that logo. I'd like someone to make it prettier, but… No, it's perfect the way it is. It needs to be fixed – so it can never be. I just went meta, mofo!
Here's How Let's Get Fixed Works.
There is a theme each week where you can join in our crusade to not suck so hard.
In the comment section declare what you will accomplish this week.
In seven days I'll write a follow up post and you can check in. If you've made it you'll receive a virtual make-out session from the rest of us.
If you fail, well, you're just human and everyone makes mistakes. Just kidding – we'll goof on you. Hard.
Checking In
Last week I promised to do three nice things for my girlfriend. I sent her flowers and called her nearly every morning when I got to work (which I never do). Technically that's just two things. Tomorrow I will head to the store and send off a card. So, I didn't fully complete that one, and it was simply a planning thing. But I own the failure.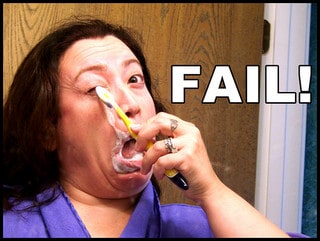 In keeping with the same theme – I have another, probably more important task this week.
I declare that I will go the whole week without criticizing my girlfriend.
I have a major issue where I always notice little things that seem like such a big deal at the time and they're nothing. I was upset with her tonight because she didn't get quite as excited as I did about driving to a bad area of Chicago to pick up fried chicken. Whenever I think she should be more expressive I tell her. Basically the message is "you're not good enough as you are." Now, I don't mean it that way, but that's the message. So, I need to be aware of when I'm doing it and not do it. It's not about her, anyway. She's fine. I've done this with all my relationships. Something that needs to get fixed.
Now, if she decides to start slinging barbiturates to junior high schoolers, I will be critical. I'm just talking about the stupid things where I'm a dick.
Your Turn
Who could you be less critical of in your life? There's at least one person that, when you enter the room, thinks, "I hope he/she leaves me alone!" Who are you a nag to? Stop nagging this week, and then start bragging next week! (about how you stopped nagging – just in case that wasn't clear)
photo credit: animalvegetable bloody marty mix via photo pin cc
| | |
| --- | --- |
| Share My Awesomeness! | Weekly Best-Of D.J.! |