My friend, Susan Lee, is NOT Chinese.
She's actually a pale round-eye from Cincinnati with blonde hair who doesn't know the difference between Mandarin and Cantonese.
| | |
| --- | --- |
| What Susan Lee SHOULD Look Like | What Susan Lee DOES Look Like |
Despite how she actually has a southern-style American name, I have decided to continually poke fun of her for having a Chinese name.
By the way, I have the absolute best idea for naming a Siamese cat – Mi-Yao. It may be the funniest thing I have ever come up with. Well, next to the female miniature dachshund I used to have that I wanted to name Sandy Bush.   I'll wait patiently while you figure that one out. I'm clever!
Back to Sue Lee.   I make it a point to communicate with her every time something important Chinese-related happens.
Just last week I congratulated her on 2011 being "Year of the Rabbit", and also asked her to explain exactly why Kung Pao chicken has those little red peppers that we all just throw away.
She didn't respond. She, not surprisingly, doesn't find the whole "Chinese name thing" very funny. Probably because she's heard it dozens of times before I started in. But, that makes it all the more perfect to me.
So, as I was Googling how to say "Next time use less starch" in Cantonese to Susan, I decided that the Chinese shouldn't have all the fun.
Let's Make 2011 the Year of the Shower Glove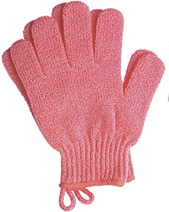 Not familiar with shower gloves? Well, pardon me for saying so – but your parents have done a terrible job of raising you.
They're only the most awesome way to get yourself clean EVER.
"But, D.J., what's wrong with a trusty old washcloth? I have a Ralph Lauren towel set and four came with!"
First of all, a washcloth has so many problems, I'm not even sure where to start!
(okay, after writing that sentence I realized I have only one major beef with washcloths – let me try again…)
First of all, a washcloth has one problem!
They slip out of your hand and fall to the shower stall ground!
And, if you're anything like me, you don't clean your shower floor very often.   My thoughts are, it's constantly being hit with soap, shampoo and water.   It's plenty clean.   So, I don't spend any time down there scrubbing.
Also, I don't want to be picking things up in the shower.   I'm busy lathering, rinsing, and singing the latest Taylor Swift song.   Plus, I'm really inflexible, and the only way I can reach the ground is to bend my knees, which is a huge pain in the ass.   Literally, if a bottle of shampoo hits the shower floor, I leave it there.   That's why I always have three bottles of shampoo in the shower with me.   I'm not joking.
But, to be fair to washcloths – they do, in fact, get you clean.
And, I'm not going to address those weirdos who only use their bare hands in the shower.   That's gross.   Grab a loofah, one of those ball poof things, or an old toothbrush.   Use something, for chrissakes.   Don't rub your hands all over your body trying to get clean.   You're just going to get pubes on the bar of soap.   It's true.   And nasty.
When I was 18 I visited France and tried a bidet for the first time.   I fell in love.   I had no idea that someone has invented an upgrade from toilet paper.   It's a remarkable appliance, and in my next life, I'm opening a store that sells nothing but urinals and bidets.   But, for some reason the bidet never caught on here.   Americans don't dig it.   Fine, I'm willing to accept that.
But, I feel I have a real opportunity today to convert at least a few of you washcloth-folk into shower glovers.
What if I was to tell you that you could have ALL the benefits of a washcloth without ever having one fall out of your grip?   What if your hands, themselves, could get you clean, exfoliate, and turn shower-time back into a wonderland of awesomeness and fun?
Okay, maybe that's a little hyperbolic.   Let's try a different approach.
Ever wish you were a surgeon?   Michael Jackson?   A Subway Sandwich Artist?
"Why, D.J., I don't understand the connection…   Oh, I get it!   They all wear gloves!"
(Pardon my MJ reference from 1984 – it was all I could come up with).
So, yes, you will feel important and significant putting ON the gloves.   The next feeling that will hit you is what I like to call "pure freedom."
Want to make some fists and shadowbox in the shower?   You can!   Love the Jazz Singer, and want to try out your own version of Jazz Hands?   Do it!   Want to pretend you're Holly Golightly from Breakfast at Tiffany's? You're halfway there!
Most importantly though, is the cleaning itself.   I'm not one to tell you about your body, but let's all agree you can get "cleaner" using shower gloves.   Places will get reached.
Lastly, ever heard of exfoliation?   Well I have, and even though I've never looked it up, I'm pretty sure it's a good thing.   Shower gloves will shed that unwanted skin you were walking around with yesterday.   You can literally stop living in the past!
One note:   Guys, if you're into masturbating in the shower – definitely take the gloves OFF first.   Actually, ladies, you should, too.
Here's another tip:   When finished with your cleaning, place the gloves on shampoo bottles to dry.   Or just throw them on the ground.   I really don't care what you do.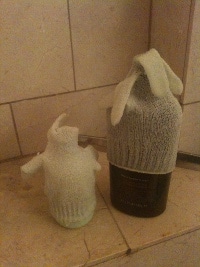 A couple of things to note:
Shower gloves come in pink, light blue, or white.   Gentlemen, get past this.
Even though I've never washed mine in the laundry, it is recommended to do so once a week.
Each pair will cost $2.99 and last about six months.   After that, they literally burst into flames.
I have been a shower glove enthusiast for over 10 years.   In my 20s it was the gift I would present a woman on our second date.   Now that I'm single again, I'll have to restock.   Russell Stover has nothing on me!
Try them – if you don't fall in love immediately, go back to your faded, nasty old washcloth.   Just let me know, because I will never shake your hand again.   You'll be dead to me, and I will wish ill for you and your loved ones.
That's how serious I am about shower gloves.   Take my gloved hand and walk with me, naked, into the shower, and into your new life of awesomeness.   (chicks only, please)