Remember watching HBO when you were a kid, and when an R rated movie came on like Angel Heart or Hardbodies 2, you sat with eager anticipation of the warnings that would display right before the film started?  As a boy, the best I could hope for was "nudity."     Although, often times, if there wasn't nudity in a movie, there still might be "adult situations."  This usually meant that there was some dialog in the movie pertaining to sex.  Good enough.
Now, a grown-man, I have accumulated a number of stories over the years that warrant these types of warnings.  Not that any of these are necessarily obscene, but they deal with adult subject matter.  Mostly about boobs.  No, just kidding.
I promise that if you open these stories at work, you will not be at risk from HR during your biannual review.  However, I would still like to file them all under a new heading I have labeled…

Carlton Loves P**n
Have you ever hired a developer?  I'm generalizing here, but I'd like to discuss my experience.   Developers tend to be weird. Of course, not all of them.  But a good 95%.
By the way, I really like developers.  I seem to get along with them fine and I find their jobs fascinating.  Over the years, I've had to learn basic coding and data management skills.  So, I've relied heavily on developers to help out and teach me how to do some things.
That aside, I'd like to share with you what happened a few months back.
My partner and I had to interview some developers to help build out an e-commerce solution for one of our web properties.   Being the cheap fools we are, we took to Craigslist.   After pouring through dozens of resumes, I found a local guy who seemed to really have a nice combination of style, effectiveness, and skill.
This is not important, but he looked just like Carlton (Alfonso Ribeiro) from the Fresh Prince of Bel Air.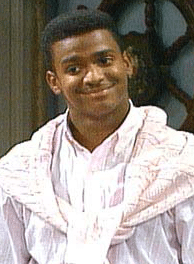 How did I know this?   He had made a caricature of himself as the logo for his business.   Kind of like a Mii for the Nintendo Wii.
By the way, that Mii makes me look like I'm about ready to join the 98 Degrees reunion tour.
Carlton and I chatted over Skype a few times, and he dazzled me with a nice presentation of the back-end software he would install that would basically automate our entire sales chain.   He said all the right things, and promised an enterprise-level solution for our particular situation.
The next step was that he had to sell my partner.   Interview #2.   We set up a web conference for the three of us, and the intent was to walk us through a sample site he had built for a client.
The first ten minutes went great, and seeing the demo only made us feel more confident.   My partner Nick asked a specific question pertaining to a side project he was thinking about having him work on.
The funny part of the story begins now.
Carlton pulled up Firefox with the intent of visiting a website that he had worked on that would address Nick's side-project question.   He started to type into the URL box, and he only made it as far as the first letter "G" when…
Firefox auto-completed the remainder of his URL with G*yforit.com.
Now, I'm not talking about when you visit Google and it tries to guess your search query with a number of suggestions that display beneath your typing.   That is Google suggesting what you may be interested in.
But when your browser lists other website addresses in the URL   field, it means only one thing.
You have visited those sites before.
And just like every husband and boyfriend (hell, even a single guy) knows, you always delete your browsing history.   Leave your dishes in the sink, pee with the toilet seat up, forget to pay the mortgage, but for God's sake, remember to delete your web history.
Because your spouse or children will inevitably use the computer and find out that daddy has a thing for hairy-legged Asian women over 50.
But, I would argue that even if your wife discovers your proclivities, it's still less damaging then having this come up in a job interview.   Your significant other will forgive you, and you'll be in counseling for the next year, but hey, that's better than losing a job.
Back to the story…
Now, I have a sense of humor about this sort of thing.   My partner does too.   This is one of those situations that could happen to anyone – like leaving a cup of coffee on the hood of your car and driving away.   Well, maybe not quite like that.
So, at the moment this happened I stayed quiet, but I immediately pulled up a new browser to type in g*yforit.com.   I needed to confirm what I suspected had just happened.   And I was right.   As a heterosexual male, it took me all of .4 seconds to realize this was a hard-core adult p**n site aimed at men who love men.
I'm sure my partner was doing the same thing, but instead of staying quiet, he blurted out, "Hey, what's G*yforit.com?"
And Carlton did not skip a beat, as if he had already prepared an answer in the event this would come up.   I had to admire his quick thinking when he replied back, quickly and calmly…
"Oh – well, let's just say that as a developer, sometimes you have to work with clients that are a little on the slimy side.   Work is work!"
Now, while this is obvious bullshit, I silently applauded his tenacity to sell us on a falsehood.   He wanted the job as our developer, and wasn't about to let a little glimpse into his private life affect the interview.
And, I have to admit, it's a damn fine lie.   It shut us up.
Well, at least until five seconds after our web conference when we called each other laughing hysterically.   We figured we had to hire him based on that scenario alone.
I wonder if my wife would believe a lie like that.   "No honey, H*rnyHousewives.com actually emailed ME to write an article for their website, can you believe it?   So I just checked it out.   You know – due diligence!   Of course, I turned it down!   Disgusting!"
I doubt she'd buy it, and would be contacting divorce attorneys immediately.
So, I keep my browsing history clean.   And, by clean, I mean I never visit such websites.   Or any like it.   Seriously.   You can trust me.   I'm not joking.   That stuff is way gross.   I mean, I'm married, so why would I…   And degrading to women!   That's what bugs me the most!   Just godless.   I would never.   No way!   Why are you looking at me like that?
You believe me, right?
Do not, I repeat, do not visit the above mentioned site that I referenced in the story while at work.   You will be fired.   I promise.