One of the posts I lost recently was the original Promote Your Blog On My Blog Right Now! Basically I gave the middle finger to my advertisers and said…
Hey, you know how you pay to be here each month? You're a sucker because I'm going to let everyone do that shit for free!
I'm not sure if advertisers appreciate my level of honesty.
So…
It's time once again to stick it to those losers!
Now, since I never do anything completely selfless, there is a string attached. The first time I rolled this I made you write me a poem. I think about fifty of you did. The next time I made you tell me something  embarrassing  about yourself. To the dude who made out with his sister in eighth grade – gross. Take that one to the grave next time.
You need to do two things. Hey, the blog's more popular so you have to jump a little higher.
Like my Facebook page – this is not a vanity thing. I'm going to do a contest in the next month that I want to make sure you're in on. I have prizes and everything.
Post a link to your blog in the comments and tell me one thing you do that's GROSS.
I'll go first.
I've briefly mentioned this before, but only in passing. I have peed in sinks. Hmm… Let's start that again.
I pee in sinks. Like, not infrequently.
As a 6'2″ dude the sink is at perfect dong height. So, sometimes while I'm shaving… well… I'll just not stop shaving. Now, I also live alone and can get away with this nonsense. My girlfriend is in the ATL and when she visits I curb the behavior. Also, before you vomit, remember that urine is sterile. Plus, I have the faucet running and then I swirl the water around to hide the shame. I'm going on (no joke) fifteen years of off-and-on sink peeing.
Okay, I brought it. Now it's your turn.
Oh, and tell all your blogger friends to swing by and promote their site. All is welcome. Except blogs that talk about sink peeing. I've got that locked down.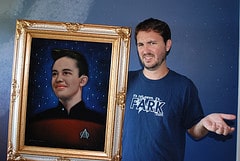 photo credit: WilWheaton via photopin cc