Many things that I write about are unexpected. Here's another one.
I got my haircut last night and, while driving home, called Jessica (the girlfriend). Wait, I'd like to back up a step and complain about something. Okay, if you read my stuff you know I bicycle to work and it's pretty strenuous. I go to one of these high-end salons in the Gold Coast of Chicago off Michigan Avenue. For three years I've been a patron, and for three years I've biked there. I arrive covered in sweat with the helmet, my gross bike clothes, and my dog in a backpack. They couldn't be nicer about it. During the winter months I take the subway still with dog in tow.
Well, I needed to drive to work yesterday for some nonsense. I wrote the other day about how I have this nice car provided to me by my parents. One of the bummers of the Gold Coast is that there's no parking. I called the salon to ask where to park. "Oh, we have valet!" I became excited in the prospect of a free valet service, basically unheard of in Chicago. She continued, "Yes – it's only $12! Special pricing for our clients!" I did a big, "Harrumph!" and hung up.
Let me describe the scene as I'm as pulling up to the valet station. It's me in my suit sitting my parent's hand-me-down luxury car with a six pound chihuahua perched on the passenger seat. The guy says, "Sir, will the dog be coming with you?" I looked at him like, "Of course the dog is coming with me – um, I'm getting my haircut! Who doesn't bring their dog into the salon?" In reality I mumbled a, "…yes." Then I scooped her under my arm and exited the Jaguar.
I was telling my girlfriend this story afterwards and how I felt like a giant douche getting the car valeted and then walking into the salon with my dog (who was wearing a sweater). She asked me how much I spent on the haircut. I'm not a guy who likes fancy things – later on that night I picked up Pizza Hut. But the fact is I still have a full head of hair at thirty-six, despite Ashley (stylist) telling me I may be slightly thinning. "$55 – I know it's a lot." She then wondered if that included tip. "No, I tip $20 – $15 to Ashley and $5 to the hair washer."
I would like to point out that I wear $60 dress shoes with my suit. Just saying, yo.
Jessica did the quick math and said, "Oh my. You spend more than twice as much as I do per year on my hair." I was aghast. This is not what a straight man wants to hear. How could this be? Birds spend a fortune getting their hair done, don't they?
Well, not if you don't need coloring. Jessica has thick, brown hair. Four times a year she gets it trimmed at $60 a pop. I spend $75 every six weeks.
Sure, it's not my cheapest expense, but I buy the generic dental floss. So, it's sort of even.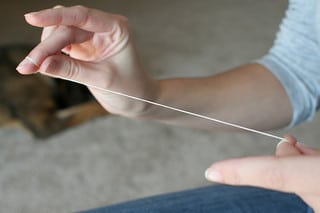 photo credit: pattyanne:made via photopin cc
Join D.J.'s Mailing List!
You're worth it. Give yourself the gift of more ThoughtsFromParis!