In my last post I talked about how I send out a lot more holiday cards than I receive.
And, last night, as I sat having a conversation with the wall, I wondered aloud if I there was anything I could do for all the people like me.
But then I thought, "And is there also a way I can exploit these people to my benefit?"
I think I figured it out – watch.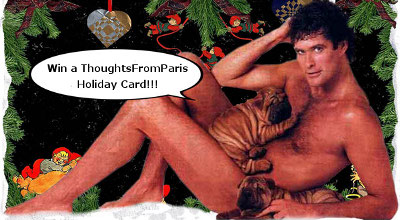 What To Do:
"Like" the ThoughtsFromParis Facebook Page.
Pick out your favorite story, and send out a link via Facebook.
Do the same via Twitter (if you have an account).
Use the contact form on this site or email dj@thoughtsfromparis.com with your mailing address.
Now, wait with baited breath by the mailbox for the next several weeks.
Odds of Winning:  100%
Odds of Winning if You Don't Do Any of The Above But Still Send Me Your Address:  Also 100%
(I'm not going to check to see if you're a filthy liar.  But, you'll know and feel terrible.)
Lastly, if you do receive one of my awesome cards, email me a photo of yourself with the card looking eternally grateful.   (I'm getting into scrapbooking.)
In the event you have neither a Facebook nor Twitter account, then just email out your friends with a link to me.  And, by the way, we're all super-impressed with you.  Truly.
| | |
| --- | --- |
| Share My Awesomeness! | Weekly Best-Of D.J.! |