If you're not familiar with BlogHer it's the largest female blogging conference in the country. Over five thousand birds (I love to call women "birds") made their way to NYC for the three-day event. Aside from over a hundred speakers, we had the President do an address, Martha Stewart, Katie Couric, and Soledad O'Brien. It was kind of a big deal blogging weekend.
There were 150 corporate sponsors, but the one everybody was talking about was Trojan?  Why?
They were giving away free vibrators to attendees.
Like any convention, there's a ton of swag. You go from booth to booth and collect the freebies. As a man in a woman's conference, most of the booths didn't appeal to me. There was a panty-liner sponsor AND a heavy flow period sponsor within spitting distance (should have used a better adjective) of each other. When I saw both at the same time, I felt a little faint and sat down. I'm not kidding.
Since there were maybe a hundred guys total at BlogHer, I was treated like one of the girls. All I kept hearing about the first day was the free vibrator from Trojan. Women would tell me that I just had to go pick one up for my girlfriend. Good idea!
My girlfriend was at home in Chicago watching over my pets and redesigning my closet during BlogHer. She lives in Atlanta by the way, and drove up to do this. Visiting the Trojan booth was the least I could do for her. I didn't even tell her about it – that way it would be seen as a present when I got home. Yes, that is how cheap I am.
I'm not uptight about these type of products and didn't think anything about going to pick one up.
When I made it to the booth, I realized it wasn't just a giveaway – they wanted you to hang out and watch the presentation done by a young guy who was very excited to talk about the line. He had the product disassembled and was speaking on each attachment with increased excitement.
There are thirty women standing around watching this, and one guy – me. I had to pretend I was interested in the tongue tips and insertion attachments. I nodded my head in feigned awe when he said this increased orgasm frequency by 25% in women.
Basically, I felt like a dirty creep standing there. There was no escape as this was the deal – listen to their pitch before you get their $50 product for free. A fair trade, for sure. But to be the only guy in the crowd was uncomfortable to me. I'm sure the women didn't even notice me, quite honestly. Their eyes were mostly glazed over.
I did make a joke at the Samsung booth where they had a new line of washer/dryers. I turned to the employee and asked if any women had jumped on top of the front-loader and gave it a spin. Sadly the person I made this joke to was a guy, and he didn't get it.
As the presentation was winding down one of the last things the presenter said was (to my recllection), "We partnered with Kinsey and research shows the 95% of women have used sexual devices like ours at some point in their life…"
Yeah, okay, good. Whatever. Let's wrap this up.
"…and 20% of all men have used them, too."
Then he motions with his eyes and hands to me.
I'm directly in the middle of this crowd by the way. I have to be clear and say that it's not like he pointed directly at me, but it felt like he tagged on the men statistic at the end for my benefit. He clearly directed his body, and the rest of the crowd, over to me..
I couldn't exactly grab the microphone and say, "I am one of the 80%! Here me loud and true! I proclaim this on the eyes of my unborn!" All I could do was stand there like an asshole and nod as if to say, "Wow! That is very interesting! I'm totally cool with what you just said!"
That was literally the last thing he said and then his assistant started handing out the freebies. I couldn't get mine fast enough. I deposited it in my bag and walked off.
Sadly, the only bag I had with me was an official Lorax bag – he's one of the awful Dr. Seuss creations and was lumbering about in the orange costume handing out totes. I tossed the vibrator in, walked about twenty paces, realized how ridiculous this was, and then took a photo.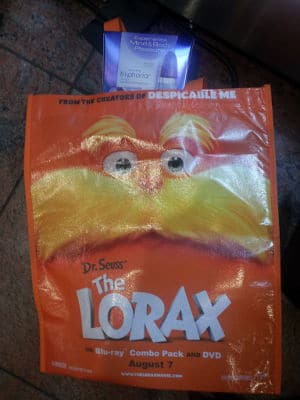 | | |
| --- | --- |
| Share My Awesomeness! | Weekly Best-Of D.J.! |